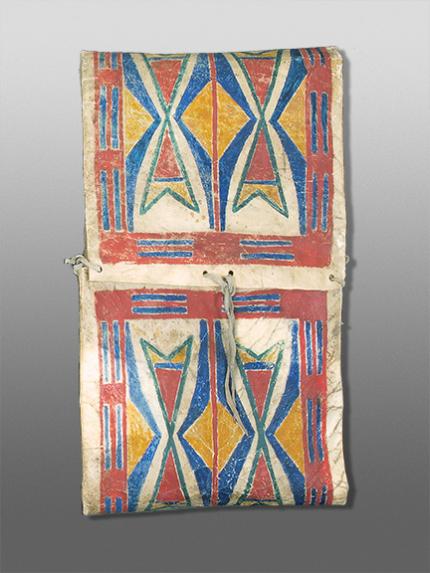 Additional Information
This parfleche, in the envelope form, was created by the Sioux during the nineteenth century, most likely during the 1880s. The rawhide has been meticulously painted with pigments in an elaborate abstract design.
Parfleches are rawhide containers which were fundamental to the Plains way of life. Functioning essentially as protective travelling suitcases, they enabled the nomadic tribes to effectively pursue buffalo herds and migrate between seasonal camps. So critical were they to a nomadic existence that over 40 tribes are known to have historically produced parfleches. Collectively, these tribes inhabited an area which encompassed the entirety of the Plains, as well as the parts of the Southwest, the Transmontane and Western Plateau regions.
The name Parfleche was created by early French traders and is a derivative of two French words: "parer" which is to "parry" or "defend", and "flèche" which translates to "arrow" - this word combination was used as the rawhide is strong enough to be used as a shield.
Parfleches were, out of necessity, robust and versatile objects, designed to carry and protect within them anything from medicinal bundles to seasonal clothing or food. In fact, it was because of the containers' robusticity and variety that parfleches earned their name in the Anglo world. Derived from parer (to parry or turn aside) and fleche (arrow), the word parfleche was coined by 17th century French Canadian voyageurs and used to describe indigenous objects made from rawhide. Historically, rawhide had also been the material from which Plains tribes constructed their shields and other objects. Overtime, however, this Anglo term came to refer solely to their rawhide containers. The versatility and popularity these containers had were certainly contributing factors: That parfleche gained this specific meaning illustrates just how significant generations of whites thought rawhide containers were to Plains Indians. Due to the Plains tribeswoman?s proficiency with rawhide production, these robust containers were not only prominently used, but they also came in a variety of forms: cylinders, flatcases, boxes, trunks and envelopes.